"We patronize them for their incompleteness, for their tragic fate for having taken form so far below ourselves. And therein do we err. For the animal shall not be measured by man." - Henry Beston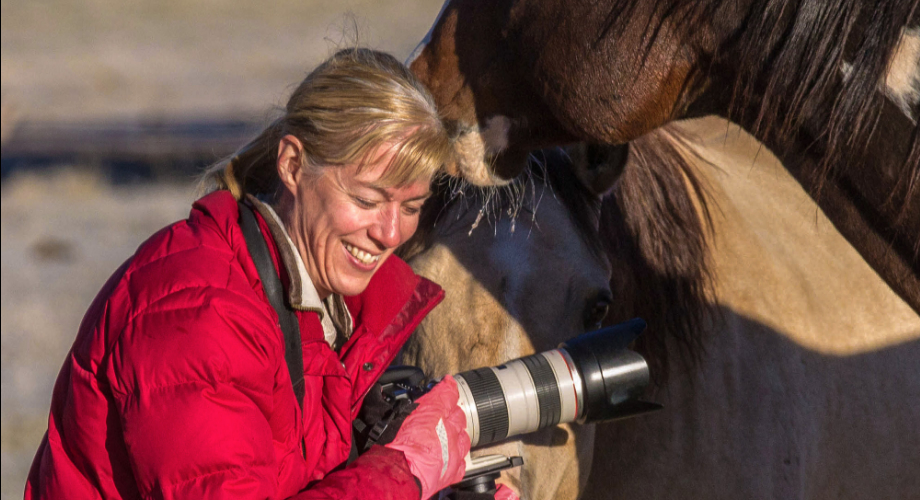 Julie finds inspiration wherever there are horses and wildlife. As a resident of Montana she is fortunate to have an abundance of both in her surroundings and enjoys traveling to seek out new sources of inspiration. Her passion for wildlife started as a kid. Julie recalls wanting to BE Mowgli from Rudyard Kipling's "The Jungle Book." Her youthful excitement and passion for animals is still very much alive as she expresses the feeling of wanting to understand, observe and get inside the lives of other animals as much as possible.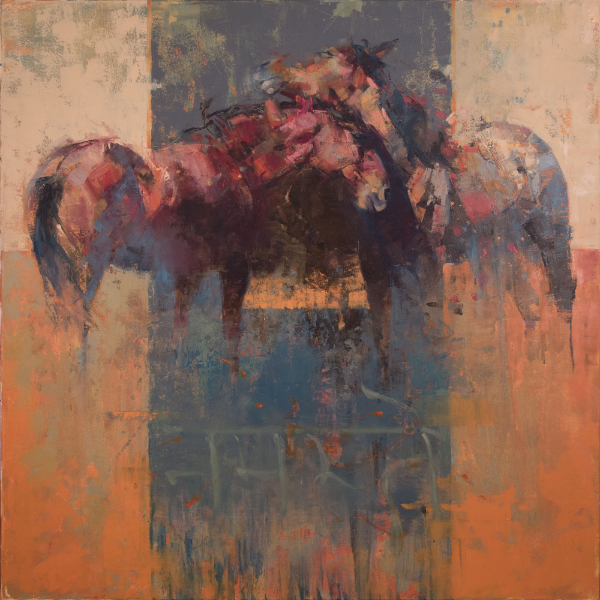 Namaste | Mixed Media |36x36

"Current research and my own experiences show us animals are far more aware and intelligent than humans have traditionally believed; animals are brethren, with different ways of experiencing and understanding the world, and I am fascinated by their forms, beauty, behaviors."
Julie grew up on a small family farm in Ohio, giving her the gift of a childhood outdoors. Her free time was spent interacting with the environment around her and learning ecology and biology through her explorations of rearing tadpoles, dragonfly nymphs, caterpillars, catching butterflies and fireflies, collecting eggs warm from the chickens, climbing trees, growing vegetables in the garden, watching the wild foxes play around their den behind her house, and baling hay. As a kid she thought everyone grew up this way, and now she realizes how lucky she was. Her childhood interactions and fascination with the land around her has remained true to all the landscapes she has found herself in throughout her life thus far. Now her home is a 20 acres patch of 'wildness' in Montana that she gratefully shares with black bear, fox, coyote, and even cougar passing through.
Gallery Wild is proud to have Julie as a part of our team, not only because of her stunning art, but also because she shares our passion for inspiring people to protect and conserve wildlife and open spaces. She personally donates part of her income to conservation causes like The Nature Conservancy, Living with Wolves, and Working Dogs for Conservation. Supporting organizations that work to protect the land and animals that inspire her work combined with the impact of her art on collectors is a notable and effective combination of conservation efforts.

Though art has been a part of Julie's life since she was old enough to hold a pencil, her first career endeavor led her to study computer engineering at Case Western Reserve University. Subsequently, she spent 18 years in high tech at Hewlett Packard, but the entire time she ventured through her successful engineering career she continued to create art. In 2002 she got a kick in the butt, luckily not by one of her horses, when her painting won the Art for the Parks $50,000 Grand Prize. After that it was apparent that moving to Montana from California to be immersed in the horse and wildlife culture that fed her art and becoming a full time artist was what life had in store for her next.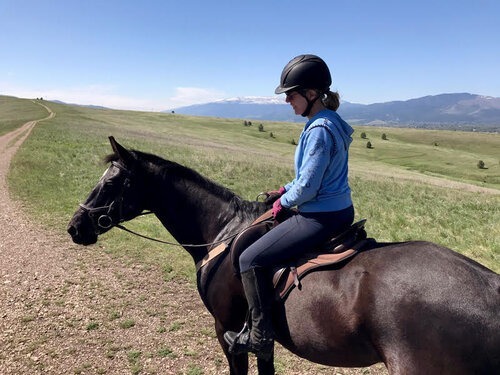 An avid horse woman, Julie's equine art grabs the attention of well versed equine art collectors because of her ability to so vividly and accurately capture form, movement and personality in her work. She knows that when it comes to horse subject matter, there is no substitute for getting hands on the animal.
"It helps me understand their forms, joints, and muscles. This also informs me more generally for any hoofed mammal."
With predators of all kinds finding their way into Julie's work, she values her time spent watching and photographing them to learn as much as possible. She even credits part of her ability to capture the form of predators to dissecting a cat in high school biology!
Now Julie's work is primarily either with scratchboards or paints. The two styles of Julie's art are often contrasting between the almost microscopic detail of a scratchboard and the abstract backgrounds and incomplete forms of the subjects in her paintings. Both styles are united by her uncanny ability to fragment the form of her subject in a way that is almost not noticed until the viewer realizes the piece has come alive in their mind. The fragmentation of form is an invitation to the imagination that generates creativity and sensation even within someone who is unfamiliar with the animal. This conjuring of excitement and feeling in her work was described well by Voltaire when he said "The secret to being a bore is to tell everything."
Julie's painting process is a stark contrast to her her scratch board work. Loose and abstract brush work, her paintings are nearly impossible to visualize in advance. Working from photographs, she will do Conte and charcoal rough sketches to get a sense of gesture and value arrangements before starting the painting. Once she chooses the size and surface she uses heavy-body acrylic paints and media (fine pumice, molding paste, marble dust, perforated metal panels ) to apply textures, and squirt on high-flow acrylics.
"I use a wide variety of tools to manipulate all the gooey goodness: large palette knives, wall scrapers, stiff plastic dish brushes, silkscreen squeegees…"
After the acrylic is dry, Julie will sand it either lightly by hand, or more vigorously with a palm sander, depending on what surface she is looking for. She will draw her subject with charcoal, conte, soft pastel – whatever it needs – and start her process of defining the subject with oils.
"The oil painting becomes a conversation with the piece, as I seek just the right amount of not enough. Paint is applied with brush and palette knife, and frequently manipulated or removed with rubber shapers, big wide brushes, etc. What makes this approach so difficult is that my failure rate is high (at least 50%), and it can be a challenge to decide when the piece is 'working' and 'done'...it's all so subjective!"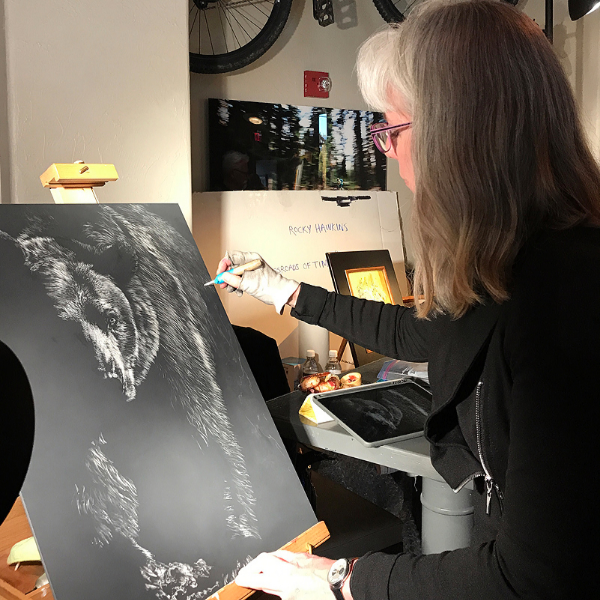 Each scratch board starts with days or sometimes weeks in Lightroom and Photoshop working on the digital design/sketch/concept for a piece. Julie will try dozens of designs until she arrives at one that is compelling. She will then get a working sketch on tracing paper to later transfer to her board. Scratchboard is unforgiving – mistakes can't really be fixed – so Julie has to have total confidence in where she's going before she starts incising the board.
The image is carved into the scratch board using x-acto knives, tattoo needles, small wire brushes – whatever will gives her the value and texture she is looking for. The time a given board requires to finish will depend on its size and the amount of white in the finished piece. "Lovestruck", for example, took several weeks.Once the image is complete, Julie sprays it with multiple coats of fixative that make the surface more difficult to scratch, though it still needs to be handled with care.
Watch Julie create a scratchboard piece in time-lapse.